Ao contrário de muitos, eu acredito que Israel quer a paz. Mas não agora. A paz virá tão somente quando Israel conseguir espoliar os palestinianos daquilo que consideram ser o seu território. Israel quer a paz que lhe convém, não a paz justa.
Se alguém ainda tinha dúvidas do desejo de deitar as mãos a toda Jerusalém, a União Europeia vem agora confirmar que a parte oriental da cidade santa tem sido sistematicamente purgada dos seus habitantes não-judeus. Quantas mais provas é que o mundo precisa para se decidir a intervir?

I

srael annexing East Jerusalem, says EU
• Confidential report attacks 'illegal' house demolitions
• Government accused of damaging peace prospects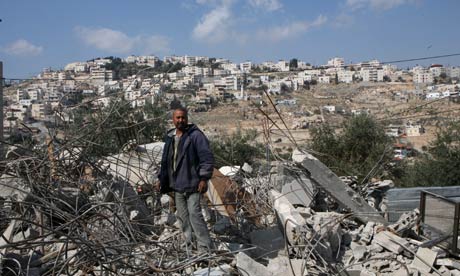 A confidential EU report accuses the Israeli government of using settlement expansion, house demolitions, discriminatory housing policies and the West Bank barrier as a way of "actively pursuing the illegal annexation" of East Jerusalem.
The document says Israel has accelerated its plans for East Jerusalem, and is undermining the Palestinian Authority's credibility and weakening support for peace talks. "Israel's actions in and around Jerusalem constitute one of the most acute challenges to Israeli-Palestinian peace-making," says the document, EU Heads of Mission Report on East Jerusalem.
The report, obtained by the Guardian, is dated 15 December 2008. It acknowledges Israel's legitimate security concerns in Jerusalem, but adds: "Many of its current illegal actions in and around the city have limited security justifications."
"Israeli 'facts on the ground' - including new settlements, construction of the barrier, discriminatory housing policies, house demolitions, restrictive permit regime and continued closure of Palestinian institutions - increase Jewish Israeli presence in East Jerusalem, weaken the Palestinian community in the city, impede Palestinian urban development and separate East Jerusalem from the rest of the West Bank," the report says.
The document has emerged at a time of mounting concern over Israeli policies in East Jerusalem. Two houses were demolished on Monday just before the arrival of the US secretary of state, Hillary Clinton, and a further 88 are scheduled for demolition, all for lack of permits. Clinton described the demolitions as "unhelpful", noting that they violated Israel's obligations under the US "road map" for peace.
The EU report goes further, saying that the demolitions are "illegal under international law, serve no obvious purpose, have severe humanitarian effects, and fuel bitterness and extremism." The EU raised its concern in a formal diplomatic representation on December 1, it says.
It notes that although Palestinians in the east represent 34% of the city's residents, only 5%-10% of the municipal budget is spent in their areas, leaving them with poor services and infrastructure.
Israel issues fewer than 200 permits a year for Palestinian homes and leaves only 12% of East Jerusalem available for Palestinian residential use. As a result many homes are built without Israeli permits. About 400 houses have been demolished since 2004 and a further 1,000 demolition orders have yet to be carried out, it said.
City officials dismissed criticisms of its housing policy as "a disinformation campaign". "Mayor Nir Barkat continues to promote investments in infrastructure, construction and education in East Jerusalem, while at the same time upholding the law throughout West and East Jerusalem equally without bias," the mayor's office said after Clinton's visit.
However, the EU says the fourth Geneva convention prevents an occupying power extending its jurisdiction to occupied territory. Israel occupied the east of the city in the 1967 six day war and later annexed it. The Palestinians claim East Jerusalem as the capital of their future state.
The EU says settlement are being built in the east of the city at a "rapid pace". Since the Annapolis peace talks began in late 2007, nearly 5,500 new settlement housing units have been submitted for public review, with 3,000 so far approved, the report says. There are now about 470,000 settlers in the occupied territories, including 190,000 in East Jerusalem.
The EU is particularly concerned about settlements inside the Old City, where there were plans to build a Jewish settlement of 35 housing units in the Muslim quarter, as well as expansion plans for Silwan, just outside the Old City walls.
The goal, it says, is to "create territorial contiguity" between East Jerusalem settlements and the Old City and to "sever" East Jerusalem and its settlement blocks from the West Bank.
There are plans for 3,500 housing units, an industrial park, two police stations and other infrastructure in a controversial area known as E1, between East Jerusalem and the West Bank settlement of Ma'ale Adumim, home to 31,000 settlers. Israeli measures in E1 were "one of the most significant challenges to the Israeli-Palestinian peace process", the report says.
Mark Regev, spokesman for the Israeli prime minister, Ehud Olmert, said conditions for Palestinians living in East Jerusalem were better than in the West Bank. "East Jerusalem residents are under Israeli law and they were offered full Israeli citizenship after that law was passed in 1967," he said. "We are committed to the continued development of the city for the benefit of all its population."
Fonte: The Guardian